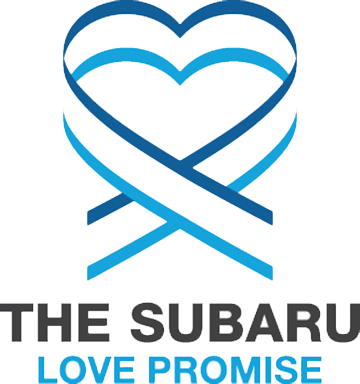 What is the Subaru Love Promise?
Subaru and our retailers believe in making the world a better place and the Subaru Love Promise is our vision of respecting all people. This is our commitment to show love and respect to our customers and to work to make a positive impact in the world.
How is Haddad Subaru of St. Albans dedicated locally to the Love Promise?
Haddad Subaru of St Albans is committed to being a strong and supportive community member. We will lead the way with our support of local community charities and other organizations that provide benefits and support to St Albans. We believe, by doing our part, we can make the community a better place for everyone.
Franklin County Animal Rescue
Fletcher Elementary School, St Albans City School
Martha's Community Kitchen
Northwestern Medical Center
Love Promise Stories from Haddad Subaru of St. Albans
Subaru and Haddad Subaru of St. Albans believe in making a positive impact on the communities in which we live and work. We uphold that belief through our Love Promise Community Commitment. Every month, we select inspiring stories from customers and partners from around our area who strive to support our collective commitment and feature them here
Northwest Family Foods C.V.O.E.O. - Steve D
Prior to our Grand Opening Event, I reached out to my friends at the St Albans Rotary Club and asked if they had any ideas for a recipient of a charitable contribution. An immediate response of "YES"... Northwest Family Foods was put forth to me. After some discussion, I learned Northwest Family Foods, one of CVOEO's three food services programs, is managed by Franklin/Grand Isle Community Action. Located in St. Albans with satellites in Isle La Motte and Richford, it provides services in Franklin and Grand Isle counties. Further conversation revealed a matching donation offer to benefit Northwest Family Foods was put forth from the owners of Phoenix Book stores... they agreed to match up to $15,000 of donations received during the donation drive going on that month. What better way to leverage the power of a donation than to contribute during a "match" donation drive. George Haddad and the folks at Subaru New England decided to team up and each donate $2500 to the charity... this money produced a total of $10,000 when the "match" was applied. Armed with this information, I reached out to Jason Rouse (Director of Philanthropy & Communications) at CVOEO. and shared the news with him. We invited the folks from CVOEO to our Grand Opening Event where we presented them with a check for $5000. The donation was truly appreciated and was put toward providing food to the people of Franklin County. A few weeks after the Grand Opening, I received a phone call from Renee Reiner (co-owner of Phoenix Books) thanking us for our donation to CVOEO. For the next 20 minutes we discussed the importance of taking care of our community and our shared philosophy of "It takes a village" for everyone to survive and prosper... our Promises of Love will never fade.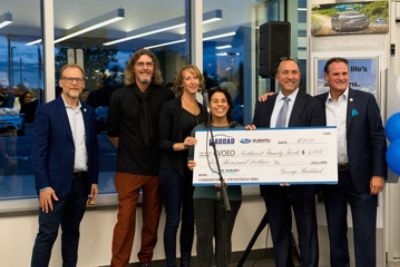 ---
Uniforms for St Albans City School - Steve D
During the Subaru Loves Learning Event, the team at Haddad Subaru of St Albans decided to adopt a local elementary school. The school we chose was the St Albans City School. The City School is a public school in downtown St Albans that has done a remarkable job developing programs, both during school and after school, with a limited amount of available funds. The hard work and dedication put forth by the School Staff and the pride displayed by the student body made this a perfect fit to receive our help. When we reached out to Margaux Vaillancourt at the St Albans City School, she indicated that they had been trying for years to secure funding for their Cross Country team to have uniforms. In the past, the children would just show up with a T-Shirt and Shorts for their events... We felt this was an excellent opportunity for us to "Share The Love" and help the kids get the unforms they wanted. The smiles and excitement on the faces of the students and teachers when we presented them with the funds to buy the uniforms was both exciting and fulfilling. A few weeks later, after they wore their new uniforms to a meet, they sent us a picture and handwritten "Thank You" cards. Nothing will ever replace the feeling you get when you see the smiles on the kids' faces.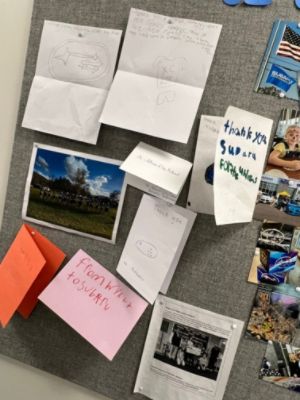 ---
Pumpkin Decorating with the Fletcher Elementary School - Steve D
The team at Haddad Subaru of St Albans decided to sponsor a pumpkin painting event for a local elementary school. We believe celebrating traditions with community members will help formulate a lasting bond with the members of our surrounding communities. We reached out to the principal of Fletcher Elementary School, Todd Rivver, and asked if we could bring pumpkins, fresh cider and cider donuts for a Halloween party with the kids... His response was a resounding "yes". Once we had the party participants determined, we needed a place to buy 110 pie pumpkins, fresh apple cider and fresh cider donuts. Luckily, we have a farm and farm stand less than a mile from us in St Albans that could provide pumpkins, cider and cider donuts (made fresh daily). Hudak's farm stand it is... Once we loaded up the supplies, we headed to our destination for the fun to begin. Upon arrival, the principal and his staff were excited to see us... the kids even more so. Over the next 3 hours we painted pumpkins and served fresh cider and cider donuts to over 100 kids and teachers. The event was a huge success... although some parents might not have been smiling when their "painted children" came home with more paint on themselves than their pumpkin (LOL). All in all, it was an awesome day of fun with the kids and teachers building memories for years to come. We believe it takes a village for everyone to succeed... we will certainly do our part to make everyone successful.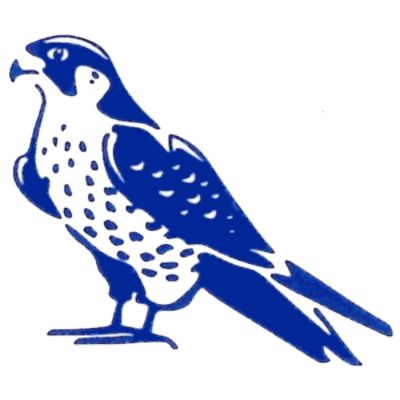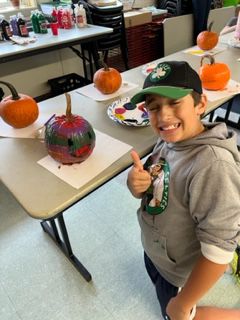 ---